OLD TIMES & NEW BEGINNINGS



Ernest Bloomquist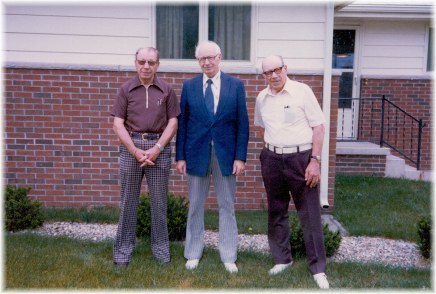 Laurence, Ernest, & Arvid Bloomquist,

day of Frances Bloomquist funeral, June 1976

A Tribute published in the pages of THE JOURNAL STAR Peoria, Illinois August 29, 1990
Ernest Bloomquist
MIDDLETOWN--Ernest W. Bloomquist, 88, of Middletown, died at 3 a.m. Tuesday (August 28, 1990) at the Mason City Area Nursing Home in Mason City, Illinois.
Born October 1, 1901, in Iowa to Carl and Anna Torn Bloomquist, he married Frances Stringham on December 31, 1923, in Des Moines, Iowa. She died June 15, 1976. He also was preceded in death by three brothers and one sister.
Surviving are two sons, Karl of Middletown and Bruce of Sedona, Arizona; one brother, Laurence of Quimby, Iowa; five grandchildren, and eight great grandchildren.
He was the executive officer and director of Middletown State Bank from 1935 to 1977. He was a former treasurer of School District 183. He was a former member and president of the Logan County Bankers Federation and a member of Middletown United Methodist Church.
Services will be at 10 a.m. Friday at Maas Funeral Home in Mason City. The Rev. Henry Cox will officiate. Visitation will be from 5-8 p.m. Thursday at the funeral home. Burial will be in Pleasant Valley Cemetery near Middletown.
Memorials may be made to the Middletown Rescue Squad or to Middletown United Methodist Church.