OLD TIMES & NEW BEGINNINGS



Fire in The Woods July 4, 1940 (story repeated 50 years later)!

The following brief account was in the Washburn Leader a week later.

Mrs. Godtfred Reimers, living west of Washburn, was burned about her hands and arms Thursday evening of last week, when a can of gasoline caught fire, while she was lighting a fire in the stove. She had about an inch of gasoline in an open coffee can and had poured a small amount in the stove. While still holding the can in her hand, she started the fire with a match, and the flame leaped to the open can setting fire to the remaining gasoline. While throwing the can out of doors, her hands and arms were badly burned. No other serious damage was done by the fire. She is going about with her arms and hands bandaged. Mr. Reimers reports her as getting along alright.

Tula and I (Donna) had been playing in the main room of the small house when we heard our mother scream, "Fire!" Fortunately, we were not alone. I believe it was our aunt, Adeline, with us. She opened a window and shoved us out.

Several men had been working nearby. Someone rolled my mother in a patch of dirt because her dress was burning. I remember that there was a small amount of fire damage by the stove where my mother had been preparing to heat water for doing laundry. It was not evening as reported in the newspaper, but afternoon.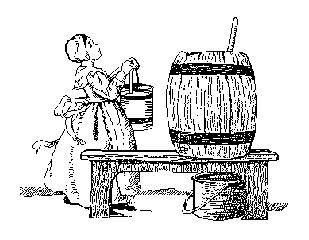 Our folks drove to the doctor in Washburn and then apparently on to a Bismarck hospital. I remember the time as hot and worrisome. My mother was in the hospital a day or two because when she came home later in the week, I know some time had gone by and I was afraid to look at her. I remember that her hands were all wrapped and she said they had to cut off her wedding ring. It was many years later when the ring was finally repaired. But for the remainder of her life she had scars on her hands and arms.

We were all lucky. That fire could have burned down our home, the woods, and destroyed our lives because of our mother's careless act. She later reported that there had been two containers, one with kerosene and one with gasoline and she had mistakenly grabbed the wrong one! I was six years old at the time, and my sister, Noreen Lavyrl or "Tula," was almost three. I have never forgotten that frightening day.