OLD TIMES & NEW BEGINNINGS



Old Photos Donna 1930s


circa July 1934 Adeline Larson with Donna Lou and puppy at Larson farm. I was five months old, b 2-3-1934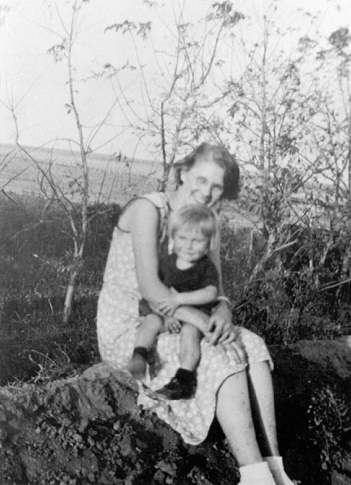 circa April 1935 Irene Larson holding Donna Lou, on edge of ditch near road and clump of boxelder trees at Ecklund/Larson farm. This is where I first lived when I came home from hospital with my grandfather and uncles to help me.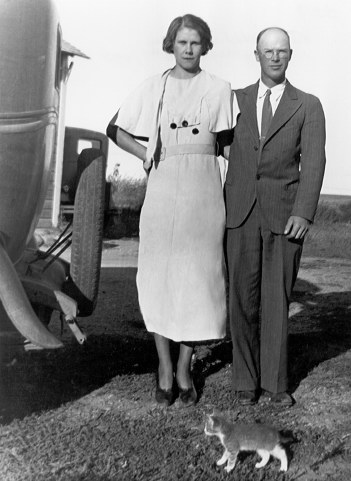 April 21, 1935 wedding day, Irene Larson Reimers and Godtfred Ernest Reimers at Art Kost farm following ceremony at Methodist Church parsonage in Washburn, ND.

Marriage Announcement

Miss Irene Larson, daughter of Louis Larson, and Godtfred Reimers, son of Adolph Reimers, members of prominent families of the Basto community, were married Easter Sunday, April 21, 1935, by Rev. Oscar H. Swensen, pastor of the local M. E. Church at the church parsonage.

The young couple were attended by David Larson, a brother of the bride, and Agnes Reimers, a nurse of Bismarck, and sister of the groom. Following the ceremony, Mr. and Mrs. Reimers were honored guests of a wedding dinner served at the home of the bride's sister, Mrs. Arthur Kost.

Mr. and Mrs. Reimers will make their home on the Carl Carlson farm west of Falkirk, where Mr. Reimers has been farming for the past three or four years.

Their many friends extend them their best wishes and congratulations.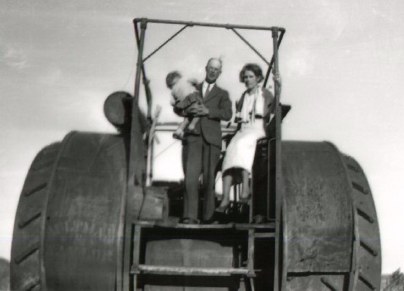 This picture was taken of Godtfred and Irene Reimers on their
wedding day, April 21, 1935 Godtfred is holding Donna Reimers Bloomquist, born February 3, 1934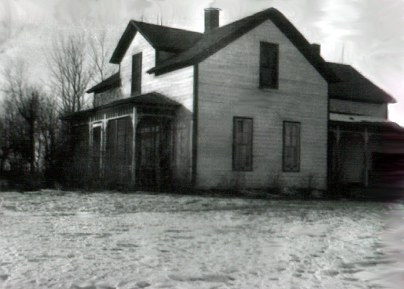 This was known as the "Carlson place," rented by Godtfred and Irene Reimers. It was the first home known by Noreen Lavyrl and me. I moved in April 21, 1935 (Irene & Godtfred's wedding day). I loved it. I always enjoyed the neighboring tree claim, my unauthorized strolls to the nearby Birka church cemetery, and peeking on Tippi's puppies beneath the porch, where I got stuck on one occasion.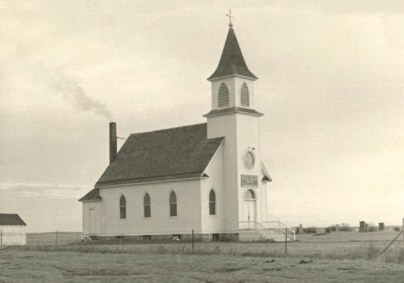 Birka church as it looked before 1953, when it burned following
a lightning strike. Later it was rebuilt. It was located about a half mile from the Carlson place, down the road to the right. In this cemetery, many of our ancestors are buried, including my parents, grandparents, and brother.
I walked there barefoot August 1935, from the Carlson place,
and played among the tombstones until I was spotted by a neighbor.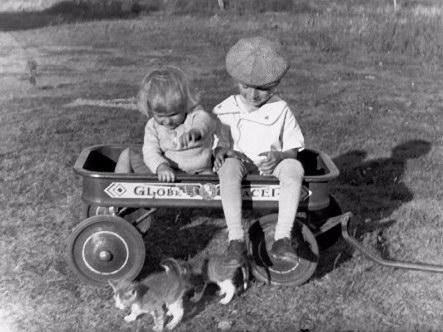 April 21,1935 Donna with cousin, Alfred Carvell
Donna and Al were great playmates, who grew up more like brother and sister than cousins. Al's mother, Lulah Larson Carvell died in February 1934. Al then made his home with aunt and uncle, Adeline and Arthur Kost, for many of his early years.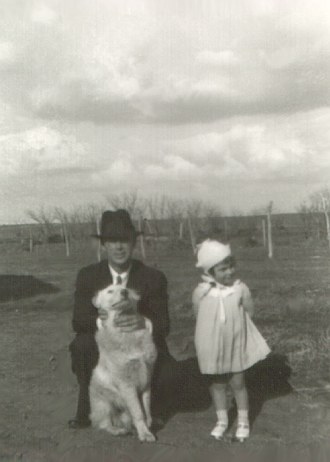 1937 Godtfred Reimers, Tippi II, and Donna
Daddy was keeping a strong hold on the young Tippi (from the litter under the porch the day Donna went exploring there and got stuck). Tippi I had died the result of a farm accident.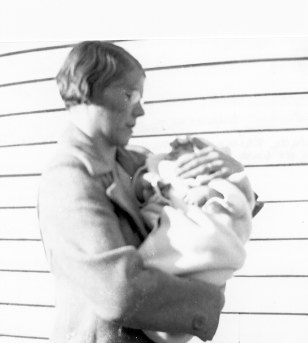 September 1937, Noreen Lavyrl Reimers baptism day (6 weeks old)
in mother's arms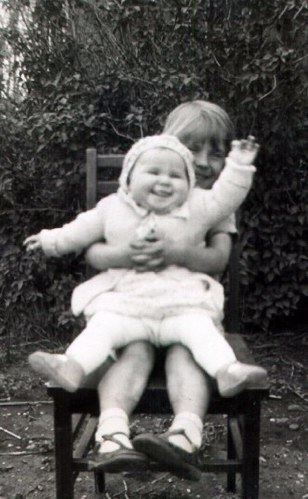 1938 Donna with sister, Noreen Lavyrl Reimers.
This was still very much the "depression" era. But, at least we both had shoes! In 1935 I went barefoot much of the time.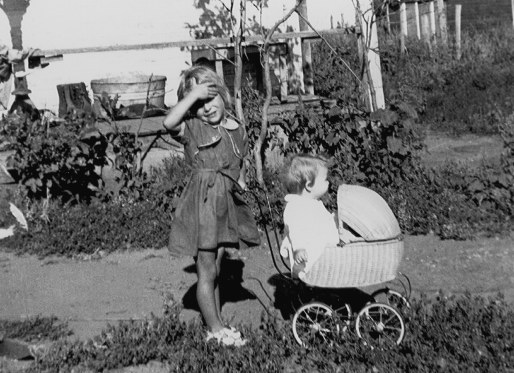 circa August 1938, Donna Lou & Tula at the Carlson place. Well, it looks hot and sunny enough to be August!!