OLD TIMES & NEW BEGINNINGS
|
home


Harvey Reimers Obituary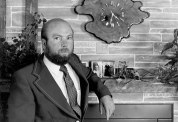 Harvey in Bismarck 1981, Marian and Reuben Reinhardt's wedding day. It was a special day for all of us to remember.

Harvey Reimers, 39, 1607 Skyway Park Village, died August 18 at University Hospital in Minneapolis, from kidney, heart and liver failure. Mr. Reimers had undergone three kidney transplants over the past 14 years.

He was born April 1, 1944 in Bismarck, the son of Godtfred and Irene Reimers, graduated from high school, farmed with his father, and became a bricklayer. He was self-employed for many years. He was a member of Bricklayers, Masons and Plasters Union No. 4 of Bismarck.

He was diagnosed as having a kidney disease at the age of five and underwent his first kidney surgery in 1949. He started dialysis treatment in 1969. That same year he received his first kidney transplant from his sister, Lavyrl Woolworth of Baton Rouge. La. Two more kidney transplants, both from cadaver donors, followed with the latest occurring in 1977.

He is survived by his mother in Bismarck; three sisters, Donna Bloomquist, Northbrook, Ill.; Mrs. Woolworth and Patricia Reimers, Lisle, Ill., and foster brother, Charles Christmann, Bismarck.

A memorial service will be held at 11 a.m. Saturday at Birka Lutheran Church, rural Washburn. The family prefers no flowers. Donations may be sent to Station 22 Transplant Patient's Service Fund, University of Minnesota Hospitals, Box 116, Minneapolis; the Renal Transportation Fund at St. Alexius Medical Center; the Bismarck Credit Union; or Birka Lutheran Church in Washburn. (Goetz Funeral Home, Washburn)