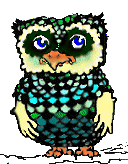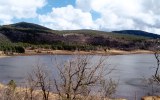 Bruce visited Stoneman Lake for the first time in March 2000. It was a cold,damp day but there were promises of good things to come, like fishing, birding, viewing lots of wild life and maybe taking a few hikes. I'm sure it is a cool spot in the middle of an Arizona hot and dry summer!

Bird Watching
Arizona is considered a "bird watching paradise" according to The Arizona Republic's February 20,2000 issue. A story by Sam Negri claims that Southeastern Arizona is home to a "rich lode of avian life." Last year, Arizona tied for fourth in the nation for states with most bird species. The Great Back Yard Bird Count then reported 142 different types of birds of the 400 species that reportedly pass through Arizona each year.
Yes, we know Southwestern and Southeastern Arizona are great places to spot birds of many varieties, but many birders are missing out on excellent birding opportunities in Central Arizona, like in the Verde Valley or
Stoneman Lake
. This is what Howard Sheldon has to say about Stoneman Lake regarding birding.
Stoneman is an important habitat for the Neotrops and a crucial stopover for species migrating farther north," says Northern Arizona Audubon Society (NAAS) member. In the past 15 years, 140 different species of birds have been recorded at Stoneman Lake, including an occasional migratory Bald Eagle, Golden Eagle and White-faced Ibis. April and September are the two prime months for bird watching.
NAAS provided a list of recently sighted birds. The following were observed on April 10, 1996: Western Grebe, Great Blue Heron, Cinnamon Teal, Gadwall, Redhead, Ring-necked Duck, Bufflehead, Ruddy Duck, Turkey Vulture, Red-tailed Hawk, American Coot, Common Snipe, Anna's Hummingbird, Broad-tailed Hummingbird, Acorn Woodpecker, Northern Flicker, Black Phoebe, Say's Phoebe, Violet-green Swallow, Barn Swallow, Steller's Jay, Scrub Jay, Mountain Chickadee, White-breasted Nuthatch, Bewick's Wren, House Wren, European Starling, Yellow-rumped Warbler, Townsend's Warbler, Common Yellowthroat, Wilson's Warbler, Rufous-sided Towhee, Dark-eyed Junco, Red-winged Blackbird and the Yellow-headed Blackbird.
This is how Sheldon describes the place: "Stoneman Lake is one of several spring-fed mountain lakes on the Mogollon Plateau. It is situated in Coconino County, known as "Plateau Country." Mogollon Plateau country lakes offer hiking, fishing, boating, picnicking and viewing a wide variety of wildlife.The surroundings provide unlimited opportunities for photography.
Stoneman Lake is a veritable window to Arizona's native past. Its craggy basaltic slopes, covered with Ponderosa Pine, Arizona White Oak, Gambel Oak, Utah and Alligator Juniper are a sight to behold. With the exception of a few cabins dotting the east shoreline, the view has changed little since the Hopi Indians led Spanish explorer Antonio de Espejo to the lake in 1583.
This body of water is one of Arizona's few permanent lakes not created by man. The lake's water supply is provided by five natural springs, derived from rain and snowmelt from surrounding watershed drainage.
Why would you visit Stoneman Lake? Its assets include abundant solitude, spring and fall waterfowl migrations, summer songbirds, an assortment of spring wildflowers and a wilderness area not yet exploited by commercialism. Stoneman Lake is well worth the trip for a day of recreation. At an elevation of 6,900 feet you can expect a comfortable summer's outing away from the maddening crowds."
This is what Sheldon says about getting there: "Stoneman Lake is located 36 miles south of Flagstaff and 125 miles north of Phoenix. Take Interstate 17 to the Stoneman Lake Exit #306, and follow the clearly marked signs. After traveling approximately 8 miles on FR (Forest Road) 213, turn left (north) on FR 665, then right immediately on FR 213A. The lake becomes visible after about half a mile, and the road ends at the day-use area. There are no developed campgrounds, but there are picnic tables, restroom facilities and a gravel-shoreline boat launch at the northwest end of the lake. Arrive prepared -- remember, there are no stores, bait shops, ice machines or 110 volts to charge that battery for your electric trolling motor. Note: Camping is available to the north at Mormon Lake and to the south at Beaver Creek."
Our son, Bruce, and Sherrian, visited Stoneman Lake for a few hours and were full of "oohs and ahs." They found it accidentally and plan to return there soon with binoculars and hiking boots. It is not that far from Sedona. It sounds like a beautiful place.
No, we probably still don't know a Titmouse from a Barn Swallow, but we still enjoy watching birds in our yard. We have purchased a few more books to guide us through some occasional needs for specific identifications. In the past, a simple field binoculars, for what had been our lackluster interest, kept us satisfied. That may not be the case in the future.
Here is an article about an
early birding pioneer
, Florence Merriam Bailey. She had a lot to do with keeping the Audubon Society going, and making ''field guides"' part of our working equipment. And, she certainly was against people wearing hats sporting feathers!
Here is a personal story about a red bird who made a big impression on me.
"A Gimpy Bird With A Heart"
He was an energetic guy, constantly moving and checking out our collection of bird seed in a compartmented ground feeder. We had placed it on our back deck, in full view from our family room. We were living in Northbrook, Illinois. Bruce was a frequent customer at a local store catering to the Audubon crowd. The winter feeders were apparently happy with our feeding station selections. There were days when we counted eight or more cardinals on the deck at one time.
This particular male Cardinal was different from the rest. He had one bad leg, withered and useless. Yet, he hopped about as quickly and efficiently as the other birds. We enjoyed his visits. We admired his spirit. Because he had a distinquishing characteristic, we could easily identify him as a "regular."
One day we noted a small gray bird, apparently quite young, alone, and standing near the edge of the deck. We heard him chirping occasionally, but never saw an attentive mother or father answer his call.
Then, we observed the crippled Cardinal feeding the young bird. We thought it unlikely he was giving him an insect or worm. There was a light covering of snow on the ground and deck at the time. The feeding ritual became a regular thing. We watched the cardinal feeding the bird numerous times. Where the baby bird went between those intervals, we never observed. We only knew that our cardinal friend had a big heart. Perhaps a bird of a different species had befriended him at a time of special need?
"The Duck Nest"
We had observed ducks in our yard at different times. Northbrook was on the aerial route to the nearby arboretum. We took pictures of some of those
ducks
, when they were getting very close to us. One day, we spotted a duck in our courtyard, and then we saw her nest. We noticed it had several eggs.
We had a gathering of people at our home for an overnight stay. It was a group of dancers from the Joffrey Concert Ballet Company that was the artistic home and training ground for our son and future daughter-in-law. They were learning their balletic skills with them. It was that night that Brian and Laura discovered each other.
Meanwhile, the party had became noisy, and someone ventured into the courtyard. The startled duck flew away, deserting her nest.
The duck never returned. We were never to observe baby ducks in our yard. We had gained a future daughter-in-law, but lost a family of ducks.
"A Baby Robin Exploring"
The master bedroom had sliding doors to the deck with an outside light next to the doors. A robin had decided to build a nest on top of the light. At first, she had been determined to come into our family room to use our hanging pot of Swedish Ivy as a nesting location. The ivy was dense and luxuriant, trailing to the floor. The robin would attempt to get into the house from any door in the house. I believe we were relieved when her focus for nest construction became centered on our light.
Of course, we were most interested in the hatching of the robins. We would surreptitiously observe their activities from a distance. We had long since temporarily surrendered use of the sliding doors to and from our bedroom. However, Bruce would read his newspapers, while seated on the chaise lounge, located perhaps eight feet from the nest.
One day, I noted Bruce napping in the chaise, and then saw a baby robin hopping about the deck near the window. Suddenly, he hopped up onto Bruce's abdomen. The robin stayed there several moments before leaving. Oh, where was my camera when I needed it most?
Here is another bird watching story, but from our early years in Sedona.
"A Friendly Blue Bird"
I was a frequent flower waterer with hose and sprinker head in June 1989. Because I was persistent in my efforts to grow mid-western flower choices in our usually arid Arizona climate, I needed to help nature along with hand watering.
At first I thought it interesting, if unusual, that a bird would follow me around the yard. He didn't seem particularly thirsty, just intrigued by what I was doing. I think he was male. Anyway, he had a predominately blue color. And I called him my "blue bird friend." This bird attention went on for several days, so that I became used to his visits and would talk to him.
One evening, shortly after sunset, he pecked at our living room window and seemed interested in what we were doing in the house. I commented to my husband and my mother, who was visiting at the time from North Dakota, that the bird had become a regular visitor to our yard.
There were several days I observed him perched on the uppermost branches of a almost needleless dying pinon pine that had been fatally wounded during the construction of our home several years earlier. I would talk to the bird but go about my business of watering the many flower pots I had on the deck, off from the kitchen.
One morning, I came out onto the deck carrying a mug of hot coffee when I noted the bird at his familiar perch. I said, "Hi, little bird, why don't you come on down and say, hello?"
Immediately, the bird flew down and landed on my wrist. He took a few sips from my coffee mug. My hand shook badly, and I splashed coffee onto the deck. He perched on my shoulder and pecked at my ear. Then, he flew away.
I was so excited and shocked by the experience, I could barely think. I rushed into the house and called to my mother. I told her what had happened and she hurried, hobbling to the kitchen, out onto the deck. My mother was pretty much an invalid, so her quick movements were most unusual. However, the bird was gone and we never saw him again.
Suddenly, I had a thought, what day was it? The calendar revealed June 27th. I realized that the previous day was my best friend's birthday. Glen had died three years earlier from lung cancer. Before she died, she told me she would come back to see me as a blue bird. I got goose bumps, recalling her words. To this day, I believe I had a special experience, with more than coincidence, when a blue bird paid me visits the last week of June 1989. When I have recounted the story to others, there have been further reactions of goosebumps and sometimes . . . tears.