Nate's Sedona Visit
| | | | | |
| --- | --- | --- | --- | --- |
| | Nate's Sedona visit | | | Bigger Pictures |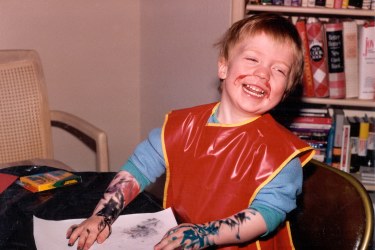 Nate's Visit to Sedona
We had been planning for Nate's visit for months. We bought clothing (size fours); toys, including stuffed animals, flash cards, Play Doh, crayons, washable paint markers, paste, construction paper, bubble play articles, etc. I had organized reading materials into shelves in my study, crates for collections on the coffee table in the Sun Room, and a lineup of bath utensils (including plastic cups, funnels, plastic bottles, and more on the shelves surrounding our big bathtub. We borrowed an antique high chair from the Needhams. We bought a cowboy-patterned blue sleeping bag, to be used over a feather mattress on the floor of the guest room. Brian and Laura requested we give Nate the guest room for his room and use the baby monitor, they were sending along, for keeping tabs on him.We had doubts whether he'd go along with that setup.We figured the guest room was too far away from our bedroom! But Nate proved us wrong!
On 17 March 1994 we left for Prescott at 2:30 pm to await Laura and Nate's arrival from Phoenix by bus. They had flown there earlier from Pittsburgh with part of the ballet company to await a later flight with more ballet people. It took us 1 hour and 15 minutes to make the drive from Sedona. It was a sunny, delightful day. We were anticipating temperatures in the 70s. It was about 4:15 when the bus pulled up to the motel. Nate was napping on the bus but Laura came off to speak to us.We spoke to Pat Wilde who commented "Nate was a good little traveler." We greeted Dana Arey, ballet master for Pittsburgh Ballet Theatre, and smiled at some of the dancers we recognized. They were all eager to get their keys and get settled in their rooms. After the bus relocated to the rear of the motel, the luggage unloading began, and Nate made his appearance. He was a sleepy boy whom we barely recognized. He had changed much since we'd seen him in early December. He was older and bigger. He said he remembered us. He was wearing a familiar long-sleeved t-shirt with a dinosaur pattern. We had a framed picture of him in our Sun Room at home with Nate wearing that same shirt. Later he studied that picture at length (sitting on his knees with arms resting on the back of the chair), perhaps recalling his home, familiar and much loved table and chairs, and farm set seen in the photo.
After Laura checked into her room, changed Nate, packed a few things; we gathered up Nate and all his luggage (two diaper bags and a suitcase) and left for Sedona, stopping at a Denny's for an early dinner. Nate had waved bye to Pat and Dana and seemed ready for the next adventure. He gave Bruce and me some reserved interest and attention. He was already checking Bruce's pocket, looking for Grandpa's comb, something he had played with off and on since he was 6-9 months old. We gave him a little gift which was later dubbed "the magic slate." He could write on it then "make it go away" with the flick of a little lever. He loved it, and in the days and nights ahead put it under his pillow so as to have readily accessible "writing" tools when he was awake in his sleeping bag.The spot under his pillow eventually became crowded with favorite little toys and gadgets, including his "Yo Yo" (a bowling game), a small timer, and a combination padlock.
Denny's was a happy place for Nate. He received a booklet gift with crayons and little plastic dinosaur and enjoyed lots of french fries.The waitress gave him special attention. She said she had a young one at home. Nate didn't eat any of his club sandwich. Laura and I took care of that. Nate also liked Grandpa's salad croutons. Other restaurant patrons smiled or spoke to Nate when they came in.
On the way home we pointed out animals and landmarks to Nate. Going to Prescott we had seen many sheep but missed them on our return. Nate indicated he would like to open his other gifts; one a cloth book with stuffed alphabet pockets, the other two small preschool ABC and Numbers books. Nate was a sleepy boy, resisting sleep until almost in Sedona. He observed a first star, red rocks and other sights. He did say he wanted to go home and when told that he couldn't without another long airplane ride, he said, "Me go on airplane again!"
We saw the Richardsons with Samson, the Saint Bernard from next door, out on the street visiting with neighbors as we approached our house. Of course it was not a convenient time to meet them as it was dark and Nate was asleep. Soon he awakened smiling and excited when we entered the house. From there on he was an energized boy, eager to investigate everything. Shortly he looked around and announced, "We'll stay awhile!" We gave him a couple more gifts to unwrap. One a cloth book on numbers. The other a cardboard dominoes set, which intrigued him for its punch-out needs.
Nate attempted to play with everything at once but became interested in a bath after seeing our tub and all the stuff we had assembled for him there. The bath became an event where he was introduced to bubble-blowing and squirting water. Grandma and Grandpa left the room at one time when he needed some privacy with his mom for a personal emergency. After he was in diaper and pjs he wanted to play more but eventually decided the feather mattress, sleeping bag and lineup of stuffed animals in the guest room looked inviting. With Laura in the room he settled down. He readily decided the logical name for the big teddy bear was "Big Teddy." Before long the LL Bean bear was called "Brown Bear." The other small beige bear was never regarded with special favor. I called him "Papa Bear" for want of a better name Nate just accepted him, but he adored "Brown Bear" and put him together for hugs and love with his old "Teddy" who had accompanied them from Pittsburgh. Funny thing, we'd said we wouldn't show Nate too much the first night because he would get too stimulated. It turned out we were the ones over-stimulated; Bruce and I both had trouble getting to sleep and staying asleep! And this was before the baby monitor was put to use.
In the morning Bruce and I were up and about for about an hour and half before Nate and Laura awakened. They were obviously worn out after getting up about 5 am the previous morning in Pittsburgh. We did try out the player piano for the first time. Nate thought that was really something. He was interested in the computer--at least long enough for me to show Laura a little of "Just Grandma and Me" and "San Diego Zoo." I wasn't surprised that the interest span was brief there since it was the first time at Grandma's computer and only one of many things for Nate to check out! It was Laura who suggested Nate and I stay behind from the Prescott return trip. She had to be back there about 1 pm with a class and rehearsal at 2 pm. Nate was dressed in the new sage green heavy duty pants we had gotten him and a new gray t-shirt. He looked very grown up. He was really cool about waving goodbye to Laura and Grandpa as they drove off in the Cadillac. He acted unconcerned about remaining behind. Shortly he was engrossed in Play Doh activity at the kitchen table. The table was protected with a plastic table cloth, and a big wooden cutting board wrapped in a trash bag. Nate wore a long plastic smock, purchased with art projects in mind but useful for eating times too. We were ready for any disaster!! The Play Doh fun was sort of new for me and a first for Nate. We kind of winged it. I got out a small rolling pin and some cookie cutters. We both used our imaginations for making cookies, snowmen, food and food utensils, pretending all sorts of things. Here Nate's concentration span lasted many hours! Except for a short break we were still at it when Bruce returned from Prescott. It had become a cloudy-rainy day. After a much needed nap that all three of us enjoyed, we returned to the Play Doh projects. Bruce got into the pretend stuff in a big way. Nate had gone down for his nap in his new room (guest room) without any fuss. He awoke cheerful and full of smiles. Laura phoned that evening about 8:30 after their performance, which had gone well. Nate was talkative and reported on his Play Doh activity (making cookies and snowmen). Laura had said Nate should go to bed at 9:30 and he respected his mom's wishes that night and most nights afterwards. He got so he would refer to bedtime as "nine-thirty" and Barney time as the same, only in the morning. We gradually came to know just how intelligent and sensitive he was to everything and everyone. Surely he wanted to be a good boy and do as his parents requested. Later, he learned the word "cooperate." A couple of times he said to me, "I be good . . . I cooperate." I went to bed at 9:30 too.
The next morning we awoke to the sound of Nate talking to Teddy at 7 am. The baby monitor definitely worked! He wasn't particularly hungry for breakfast. Grandpa convinced him that a scrambled egg was a good idea. Later we scurried to Nate's every request. Bruce tried to drink some day old coffee. I attempted to drink a cup of tea. We were out on the deck and later exploring the yard. Nate was concerned about some broken manzanita branches apparently damaged by a large animal. He couldn't get that off his mind and reported it to both his mom and dad in their separate phone calls. Brian was in Pittsburgh with the day off. We checked out our decks and rocks and flowers. Nate wasn't interested in bending over to smell the blooming hyacinths and narcissis. I told him to smell the flowers and he said, "I did already." He didn't like walking on the river rock without being in our grasp. Everything was new to him and a little scary.
We all piled into the Cadillac with Nate in his car-seat in back. The car-seat routine was new to us but Nate was patient and tolerant of our fumblings. We drove up to the airport. Grandpa and Nate looked around a little outside at the point. A bus was there briefly with a load of tourists. We went on to the helicopter pad to look at airplanes and the helicopter. We watched the helicopter take off and land twice about sixty feet from where we were parked. It was a first for all of us. Nate was also thrilled to see an airplane take off and another land. He didn't want to leave. He wanted to see "more airplanes." I recorded much of the experience with the camcorder. We drove on to Red Rock Crossing. It was a first for me riding over the newly paved roads. There were still improvement projects going on at the Crossing, some positive, others negative--such as the taking away of much of its natural charm. The creek was low and slow and fairly quiet. There were chairs set up on the east side. Apparently a wedding had recently taken place. Later we learned Annamarie Hayes, the former vice mayor of Sedona had been the someone getting married there (a lady we'd become acquainted with several years earlier). Grandpa and Nate did some exploring on rocks in the creek. Grandma attempted to record everything with the camcorder. It was cool and Nate walked with his hands in the pockets of his Levi jacket. There were a few raindrops falling on all our heads. Nate seemed to be having fun. He loved to shuffle his feet in the sand and gravel along the path and sidewalk. Grandpa called it his Oak Creek Shuffle. We were certainly enjoying the sharing experience with Nate. The rain came in earnest about the time we returned to the car. When we got home it was soup time. We were all hungry. Nate ate corn chowder and Grandma's homemade roll with butter. He napped several hours. We woke him at 5 pm, fearing we'd have trouble getting him to bed at 9:30 if we hadn't.
The "Road Construction Ahead" video had arrived by mail. Bruce and I previewed it as Nate slept. Later we replayed it for him--fast-forwarding through some of the talk and technical stuff. He didn't seem enthralled! So much for rave reviews for two-year-old video customers! Nate thought Play Doh activity more fun! Grandpa fixed pork steak, mashed potatoes, and pork and beans for dinner. Nate wasn't hungry. Another day he enjoyed leftover pork steak by gnawing on a bone with gusto! We recorded that with the camera.
Laura phoned in the evening from Laughlin, Nevada. She was interested in all of Nates's activities. Of course he had much to report this day, especially about airplanes and a helicopter! Later we played the "Fox and the Hound" video. He liked it but fortunately went to sleep before its rather scary ending, which was past Nate's curfew, the 9:30 bedtime!
We heard Nate talking to Teddy about 5 am. He played with his magic slate a long time before going back to sleep about 8 am. He slept until 9:30. We asked him whether he had had bad dreams. He said no. Perhaps he didn't remember. He did comment, "I have nightmare at Mom's house--I call Mooom!" His eyes were big with a most dramatic expression. Obviously he knew about bad dreams and nightmares.
Later we decided that Barney tapes would be the most exciting video he would watch before bedtime in the future. This was after he'd awakened in the middle of the night and cried out on one occasion. Bruce had found him standing in the middle of his sleeping bag. With Grandpa's reassurance he'd quickly gone back to sleep.
Sunday was an Eggo waffle day with egg and bacon. Nate talked on the phone to Bruce II a little today, also my mother. We had walked down to the end of the street by Jensens. Nate thought it too bright outside. He kept pulling his cap down in front of his face so he couldn't see where he was going. He liked walking in the gravel. We called it more of his gravel shuffle. We wished he had a wide-brimmed hat and or sunglasses. It really wasn't that bright a day since there were many clouds. But he fussed all the time, "too bright!"
Today was the first day of Spring and we saw our first hummingbird of the season. We pointed out the hummingbird on a couple of occasions to Nate to which he retorted, "I already seen it." He had a similar comment when we referred to the red rocks and the views. I asked if he'd seen the big red rocks--referring to coffee pot. He answered, "I did already." When I asked him what he thought of all our red rocks, he pondered the question awhile then said, simply, "Big." Frequently when I asked him to do something he'd answer, "In a minute." That was a new expression for Laura when we told her of it in our nightly report.
Nate was interested when we made fresh food for the hummingbirds. We referred to it as bird juice. We explained how the sugar water sometimes got old and the birds probably didn't like drinking it that way anymore than we liked eating old food. He understood that. A couple of bees had gotten into the feeder and drowned.That fascinated him.
Once after he'd eaten some pieces of raw apple he sat in a recliner but turned it away from us. Later we realized he had private bathroom type business to take care of. More and more he'd request we "go away" when he was about his personal needs.We regretted not purchasing a potty chair for Nate, since he seemed most concerned about messing in his diaper. He nearly always made an announcement before nature took its course. We also talked about keeping his "bum bum" in good shape with good rinsings and lots of paintings with Desitin, so that his mom and dad wouldn't get mad at us. That usually made an impression so he'd cooperate for a diaper change. Many times he would deny being wet, consequently a little cajoling would be necessary.
On this evening we also watched and listened to a PBS program of classical music. We all enjoyed the singing of Placido Domingo, Pavarotti, and Carreras. Nate was definitely enjoying the music and occasionally making his own singing sounds. I had also played some classical piano CDs on the stereo earlier. Nate was getting a crash course in culture. Many times we'd observe him examining and studying some of our bronzes as well as prints and paintings. Always he was careful with our possessions. He would gently stroke the animal bronzes, deer clay sculptures, and look at the cacti metal sculpture. He knew what the latter represented and referred to them as deer and cactus. When we were outside he kept a generous distance between himself and the cacti after being told they had stickers which could hurt if one touched them.
Nate became a fan of Pinocchio. We watched the movie on video five or six times while he was with us. Not only did he enjoy watching the movie, he enjoyed talking about the characters. He would say, "Stromboli bad guy but I like him . . . he funny." The same went for Honest John. Once he asked, "What's his name?" I said, "Who? Stromboli?" "No . . ." "Honest John?" "No . . ." Then his face brightened, "I know . . . Jiminy Cricker" (meaning Jiminy Cricket!) All this from a twenty-seven-month-old boy!!
One morning we set out the bubble-blowing soap and tools on the deck. We made bubbles for an hour or longer. Apparently it was a first time experience for him. He enjoyed seeing the sunlight reflected in the bubbles. We stayed outside for lunch. We had hotdogs and when I suggested we were sort of having a picnic, he agreed. I asked if he'd been on a picnic. He nodded and said, "Peggy!" Wonder if he picked out nuts from her health bread?
After Nate had been with us four or five days we returned to my computer for another session. He was quickly hooked. Most days he would request one time or another, "Downstairs . . . computer." I called him my little computer nerd. He particularly liked two educational programs I had purchased for him. One was called "Millie's Math House", the other "Bailey's Book House of ABCs." He also liked the CD "1000 of the World's Greatest Sound Effects." After I got better at calling up the sounds, he enjoyed being quizzed as to what they were. He was particularly fond of train and household noises. He was good at identifying the sound sources.
Once Nate and I were talking about babies, particularly Dahlia and Dirk. I asked if he would like a baby brother or sister. He said, "No!" I asked, "Wouldn't you like a little brother or sister to play with?" He thought awhile then said, "Maybe . . . outside."
One day Nate, Bruce, and I went grocery shopping. Nate picked out bean dip and a packaged mix of macaroni and cheese. He knew exactly what he liked and wanted. Afterwards we went to "Western Wear" where we bought him a black cowboy hat. Apparently the sales clerk didn't think we could afford or want to buy an expensive black felt hat for a two-year-old.We did look pretty scruffy. But at least Grandpa wasn't wearing his old Dutch shoes! Unfortunately the store didn't have a hat in Nate's size. We bought one a little large and Nate objected. He didn't want any part of it. He said emphatically, "Too big!" Of course it would be windy outside that day, which made matters worse. The hat wouldn't stay on his head and it didn't have a tie of any kind. Later, Grandpa bought a leather string and put it on the hat (this on Nate's last day with us).
Another day Grandpa cut the grass, which was quite long at the time. Nate helped, or tried. The push mower was hard for even an adult to push when the grass was long. Nate ran behind Grandpa while Grandma scurried back and forth trying to capture the occasion with the camcorder. It didn't go well. Afterwards it was dirt-digging time and Nate wanted to try out all our garden tools, including rakes, hoes, trowels, buckets, and brooms. He also discovered the basket of tennis balls and thought to improvise a bat with a plastic hand-fertilizer-spreader. Smart boy, right? Grandpa never did go rummaging in our sports equipment locker for some real bats and balls and mitts. I tried talking Grandpa into making Nate an old-fashioned swing. Next visit, maybe?
Grandpa gave Nate some hot-rodding rides in the wheel barrow with Nate grasping the sides for dear life. I think he loved it, sort of, like one loves riding on a roller-coaster. I also tried capturing that with the camcorder!
We eventually got around to shampooing Nate's hair. We did it at the kitchen sink. Grandpa held him with his face up while I did the shampooing. It took some speedy work but we all survived that first shampoo event and Nate didn't complain too much. It was easier the next time and Nate must have decided it really wasn't that big a deal. Once he decided to do some negotiating when he wanted more bubble bath fun in the tub. He told me, "I want bath . . . hair dirty!" He patted his head. It didn't sell. He was already clean at the time.
One day Barney had a program lesson on bugs.We already had a video tape of perhaps eight Barney programs before Nate came to Sedona.They became life-savers. Nate loved Barney and consequently would watch Barney all the time if the program were on. When no other entertainment would do or when Nate needed quiet time or Grandma and Grandpa needed rest time, there were the Barney programs on tape! Anyway, there was the program on bugs. Well, Nate had a fear of all bugs yet a fascination that made him want to see and observe them. After the program we went on a bug hunt, turning over rocks in the yard. We did that on several occasions. Once we turned over a rock and discovered an ant hill.Very interesting. Fortunately none got in Nate's or Grandma's pants! Grandpa tried introducing Nate to earth worms. He cautiously touched one once but then grimaced when he thought he was touching the soil where the worm had been found. Apparently he won't be baiting his own fish hooks in the near future.
Probably the best day for Nate and Grandpa was when they went exploring together in the jeep. Grandpa strapped Nate into the seat beside him and off they went around Foothills South. They met some friends of ours working outside. I asked Nate what the Rosses had said to him and he replied, "Big boy." Later, they went to MacDonalds for fries and a strawberry shake. Grandpa had purchased the shake for himself, not thinking Nate would drink most of it. They drove up Schnebly Hill over the bumps and around the curves to get up high. Nate was wary of the heights but he liked the two cows and a dog they saw along the road. Later, it was the cows and bumps in the road that he reported on to his mom and dad. He went to sleep on the way home and got nearly jolted out of his seat when they went over one of the biggest bumps right on Foothills Drive. It made an impression. He said, "Really big bump!"
Nate did love his bean dip. But when we gave him some chips and dip from a new can near the end of his visit, he said, "Too hot." I said, "You mean it's spicy?" He said, "Uh huh, spicy." I said, "But Nate, it's just like the other bean dip you had!" He wasn't convinced.
One evening we made chocolate chip cookies together. Nate helped stir in everything. He was neat and careful. He enjoyed turning the handle of the nut chopper for one cup of nuts and later tried out a different nut chopper because he was having so much fun. He also tried the egg beater and did some serious combining and tasting of raw ingredients. In fact he ate a lot of raw cookie batter! We made five dozen cookies. After they were cooled enough to sample, Grandpa poured some milk for himself and Nate and said, "Let's have some cookies." Nate said, "Me no eat nuts." We had forgotten about his refusal to eat nuts in cookies, cereal, bread, etc!! Yet he had eaten perhaps one or more cookies of raw batter, with nuts! Before the cookies were gone five-six days later, Nate finally did eat one after Grandpa had practiced some crafty persuasion. Grandpa also got him to eat almond praline ice cream without spitting out chunks of praline. He told him it was candy in the ice cream. That satisfied him enough so he had three helpings!
Then there was the moon! A full moon impressed Nate one night when it was just Grandma and Nate at home. He commented, "Moon really big, bright." The weather was cool, perhaps down to a low of 31 before the following morning. I dressed Nate in his winter jacket and cap and shoes and socks. We stayed outside maybe one minute. But Nate was happy. He had seen the moon. On the computer program "Just Grandma and Me," Nate's favorite page was when Grandma carries a sleeping Critter into the house after their beach outing and the moon says, "Goodnight!"
Nate was a little unhappy about Grandpa leaving for four days on a flight. He went in a closet and refused to watch Grandpa leave or wave to him! However, that day was perhaps the best for Grandma. Nate was affectionate with me. He climbed on my lap several times at the computer and asked me to carry him around outside when we were exploring the "back forty," as Bruce and I called Millie's land on the other side of our ditch in back. Nate would remind me, "Be careful, Gamma." I was always reminding him to be careful when he was negotiating steps. He would say, "I be careful, I hold wall." There were a few close calls for accidents during his two-week visit but he never did hurt himself as far as we knew. We noted a small bruise on his leg but never knew how or when it had come about.
Nate and I dug in the dirt on two occasions. Once when it was slightly moist and pliable like Play Doh, he used his hands. He had Grandma digging and dumping too. We wished we had a dump truck or two. I told Nate we were doing road construction. I used the opportunity to fill a low spot in the yard and dig up some grasses in a planting area. Nate would have remained in that dirt spot playing, indefinitely. Grandpa phoned while we were outside once and Nate talked eagerly and enthusiastically about what he was doing. Later Nate went in the garage and locked me out. He wasn't about to unlock the door. Fortunately, I had planned ahead and left a door unlocked off the kitchen deck. When I entered the garage from my study Nate had a surprised look on his face with perhaps a little uneasy uncertainty about what might happen next. Except for some heavy-duty convincing to make him come in, there was no confrontation. After a snack and drink of apple juice he was ready for nap.
Grandma created a bear house for Nate and his bear friends. I hauled up a card table to the Sun Room and put a big brown blanket over it. Nate liked putting the bears in it for "naps." Once I got cold and grabbed the blanket to cover myself. Nate objected strongly. He hauled our deck cushions to the Sun Room where he used them for sitting or lying on. Several times he propped the chaise cushion against a table leg and used a pillow as another prop when getting situated just right for his TV watching. That was how he viewed Pinocchio and Barney shows much of the time. He would also sit sideways in a chair with his feet resting on the opposite arm.
It rained off and on for two days while Grandpa was gone. Nate resigned himself to staying in the house. He said, "Too much rain, no go outside." We discovered a new activity. I played music CDs that went from classical piano to swing orchestral music, Strauss waltzes, and Sousa marches. Nate decided to do some serious dancing and marching. He danced with Teddy and Brown Bear. I was amazed by his moves to swing music. This was the only time he did any dancing or keeping time to music while he was with us. We would watch his body swaying slightly and his feet tapping to some TV program of music occasionally but that would be it. I asked him once why he didn't sing or dance with Barney and the Backyard Gang. He shook his head and said, "TV." I'm not sure what that meant.
When the rain finally stopped and things had dried off a bit, Nate and I went outside for more digging. Everything was fine until we went up on the kitchen deck where I could get Nate some apple juice. I heard the phone ringing so I stepped inside to answer it. Well, Nate followed me! The apple juice spilled in the doorway and on both sides of the door, the deck, and in the kitchen. He tried to wipe his shoes off on a little rug then climb onto an upholstered kitchen chair. Well, mud was being smeared on the chair so I lifted him off with one hand while I held the phone with the other. I grabbed the apple juice but Nate climbed onto the other chair with mud going everywhere there. As I told Bruce later, I wasn't out of control but I had definitely lost control of the situation. Once I was off the phone, things didn't improve immediately because Nate didn't want his muddy shoes or clothing removed. He'd been having such a good time! There were a few tears as I tried convincing him clean clothes and clean shoes wouldn't be too bad. About that time he said he wanted a nap and didn't want any pants on. He went to bed in just his diaper and t-shirt and woke up cold about an hour later. He told me he was wet, which he really was. After a diaper change and finally having clean and warm long pants on, he went back to sleep.When he awoke to a dinner of macaroni and cheese and hot dogs, all was okay with the world. The macaroni was a big hit, particularly the star-shaped macaroni. The next morning he had a bath and lots of bubble fun and photo taking before breakfast with more macaroni and cheese for breakfast.When Grandpa came home that evening Nate was even more pleased with himself. While we were waiting for Grandpa I told him make believe stories about Grandpa and Brian as little boys. I guess he wasn't impressed with my story-telling abilities because Nate said, "Don't talk, I wait." So he sat on the sectional, waiting. Grandpa came home very tired but managed to stay awake until 9:30! After that Grandpa did almost everything for him. Nate told Grandma to go away when he needed changing and many times when he just wanted to be alone. He'd accept Grandma's attentions only when Grandpa wasn't around. After Brian and Laura arrived on Thursday, Nate said to me, "Go away, I got my mommy now!" Humm?
As Nate's visit was winding down we finally decided we should get out the construction paper, scissors, and paste for some art projects. About that same time we got daring with the washable markers. What a mess, but we had a good time. He had paint on his hands and arms. We took some photos of Nate to prove it. He didn't object. The paint did wash off readily enough with soap and lots of water. He got some lessons in scissors use too but needed a lot more practice before getting any A+s in cutting. He did very well with his pasting and was most pleased with the completion of the projects after we displayed everything on a bulletin board in the hallway. He'd stand there admiring everything and say "Good." We hung a calendar with the days we had been marking off before Brian and Laura would come to Sedona. I'm not sure what he understood, yet he knew it was Grandpa Jim's birthday or guessed, when we asked what else was going on the day his mom and dad were coming. We'd mailed a Barney birthday card and picture of Nate to Jim. We'd read it to him and he'd appeared to understand what it was all about. We had also sent an Easter card with a picture of Nate to Peggy and her family. Again Nate seemed to understand what was going on.
We had done some flash-card reading with Nate. He had occasionally asked for reading practice. For a while he was identifying certain words correctly regularly such as "apple" and "baby." Later we decided he was a true genius because he was getting many words right until we noted he was seeing the pictures through the card where it was in the light!! No wonder he could identify the words. He was chagrined to be found out. He had the most sheepish, mischievous expression on his face.
Nate enjoyed brushing his teeth and did it well except when he decided the toothpaste was good to taste and swallow! Normally he would spit into the lavatory. I moved the Pearl Drops and tooth paste to the rear of the counter, but he outsmarted me! He got Grandpa's long shoehorn and pulled the toothpaste and brush to within his reach. This was done with me out of the room so I was puzzled how he'd obtained the brush and toothpaste. He showed me his achievement with an obvious sense of accomplishment. Sad but true, his honesty was rewarded by Grandma hiding the shoehorn.
One afternoon Nate and I strolled over to the Vanderhoofs, next door, while Grandpa was off on his trip. Fred asked if we'd like to come in but Nate shook his head, no. So we visited a few minutes outside the door. Joyce Vanderhoof and the two granddaughters had gone shopping to Cottonwood. Nate told Fred that Grandpa had phoned and that Grandpa was on a "big airplane." He reminded Fred to shut both doors when we said goodby and went home.
Nate never was interested in having us read to him. A few times we attempted it, but it was a sharing he apparently reserved for his parents. He did enjoy perusing the children's books on a bottom shelf in my study. At twenty-seven months Nate had a good grasp of the English language. The following were some of his expressions: "Look what I found!" "Look what I did!" "I can do that." "Let me do it." "Help me." "You do it." "What that mean?" "It be back." "I did it." (taking responsibility for messes, accidents, or ?) "One night . . ." (pretending to read a book) "What he did?" (Grandpa had been telling Brian about some errant driver's move by saying, "You wouldn't believe what that jerk did!" Then there was the discussion about the engraved silver spoon and fork that Nate was using. Brian asked if they were Bruce's and we told him they were Grandpa Bruce's spoon and fork from when he was a little boy. Nate turned over the fork, examining it more closely, and interjected, "Now me."
Thursday 31 March 1994 Brian and Laura arrived in Sedona.They had flown from Denver to Phoenix then rented a car. Nate had helped me do some cleaning before they got here. He was good at cleaning glass with Windex and towel. He was so thorough Grandma didn't need to help much at all. He also followed me around when I was cleaning toilets, and helped by checking out bathroom drawers. He found a container with one breath mint, then asked if he could have the "Tic Tac" box. We had asked Nate to cooperate for a photo of him wearing his new black cowboy hat. He had begrudgingly agreed then refused about the time Grandpa had focused on him for the umpteenth time. Grandpa groused a bit, took his camera, and stomped off. I suggested to Nate that he tell Grandpa he was sorry. However, that was the end of any picture taking and there was no "sorry" from Nate. When Brian and Laura arrived he told them "Come in." It was show and tell time! He ran around the house showing things and telling about everything he'd been doing. He was quickly flushed with excitement. Brian and Laura had been up until about 5 am that morning after a short night's rest. They had been out for a late meal and visit with the Jim Swansons and Scott Rosses in Greeley, Colorado following their ballet performances. The Rosses daughter, Jackie, had seen the dancing too and was most thrilled to meet two real dancers. Brian had tap-danced in Rodeo. Nate had told us that "dad go tip-tap-tap dance."
Nate was good at telling or reporting information and events. One of the first things he told Brian and Laura was that Grandpa had gotten mad at him. Grandpa didn't know whether to be amused or embarrassed by that story!!
Bruce and I left the house for a couple of hours to let Brian, Laura, and Nate nap. We went shopping for a bola tie and western shirt for Nate plus kaleidescope and leather souvenir bag with gold nuggets. None of the things impressed Nate much that evening, but then he had his mom and dad finally and didn't need anything or anyone else!
We had dinner on the deck with Nate seated at the table with everyone else. He had a regular dinner plate with small portions of regular food and he tried to eat like a regular adult. He was obviously doing his best to be grown up.
After dinner we went for a ride around Foothills South with Grandma and Grandpa attempting to point out all the new homes and changes to Brian and Laura. Nate observed, "Pritty." Out in front of our driveway were Ken Richardson and Samson, the Saint Bernard. Finally, Nate had gotten to meet Samson. Nate had pulled back frightened but charmed when Samson poked his head in the car. His daddy had petted Samson! Later when Nate spoke on the phone to Aunt Patte, he said, "Really big dog!"
Nate had been watching "101 Dalmations" late in the evening as Brian and Laura did last minute emergency laundry and packing. He didn't want to quit the movie for bedtime. He cried, "No . . . I want doggies!" We decided to gift him with the video to take it back with him to Pittsburgh.That calmed the storm. I think he took it with him to bed. He said he didn't want to go on the airplane.The next morning he was cheerful and excited but nervous about the trip.We felt saddened to watch him nervously gnawing on his fist and fingers.
We were all up at 4:30 am. Nate got to observe the moon and many stars. He ate a bowl of Kix with milk, something he had rejected during his two weeks with us. He finished up the milk by drinking it from the bowl. He gave us a little wicked smile, perhaps to say, "Well, if I could get waffles instead of cereal with a little fussing, why not?" Grandpa and Grandma were sad to say goodbye to their little guest and his mom and dad. He looked so grown up in his big navy cardigan sitting in the car seat in the back of the car, gnawing on those fingers. He couldn't quite understand why the car was white instead of red like his mom's. But he was ready to go home even if it did mean riding on a big airplane for four long hours once again! Bye . . . .
Grandma went back to bed since she hadn't slept at all. Grandpa had been drinking coffee so he stayed up to read the paper and do cleanup. It took a few days to get the house back in order. Grandma and Grandpa were both tired and sad for several days about Nate leaving. They realized Nate's visit next time will be much different as he will become a big boy all too quickly. We thought twenty-seven months a perfect age. We shared many firsts with him--all very special. We will cherish all those memories as we watch the calendars of months and years fly by. I am sure there will be many times when Nate says, "'member when we rode in the jeep, Gampa?" or "'member when we made pictures, Gamma (or Donna)?" "'member when we played on the computer?" Perhaps these pages will help us all hold on to those all too fleeting fond memories. And hopefully the years ahead will provide us with many more exciting memories with our first and very special grandson, Nathaniel Lawrence Bloomquist, who wouldn't commit himself to a favorite name. So we called him "Nate!"
THE END